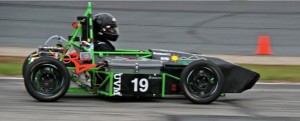 The Alternative Energy Racing Organization (AERO) uses the FabLab almost daily during the school year to prototype different parts on their alternative energy racing car, Greenspeed. The machine they use most is the laser cutter. The laser cutter allows them to create quick cardboard prototypes to ensure proper geometry and measurements for car parts that will later be machined.
"The rapid prototyping tools of the FabLab make it easy for AERO to iterate and prototype quickly," says team member Emmie Bolt. Access to the FabLab provides opportunities for the group to be creative and customize designs.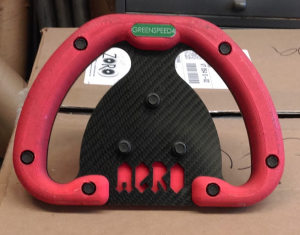 Photographed here is the AERO car steering wheel, printed on the FabLab's Stratysys Dimension 3d printer in 2013. Through multiple years of racing competitions it has held up extremely well and will hopefully steer the car to victory at this spring's annual International Formula Hybrid Competition.
Learn more about the Formula Hybrid Competition
Photos provided by Emmie Bolt and AERO.
Post submitted by Emmie Bolt